Regal Holiday Classic Movies: The Grinch (2018)
December 4, 2022 @ 1:00 pm

-

3:00 pm
WHEN: Saturday, December 3rd and Sunday, December 4th, both at 1:00pm
WHERE: Crossgates Mall Regal Cinema
COST: $5.00 TICKETS HERE
BUS: #10, 12, 114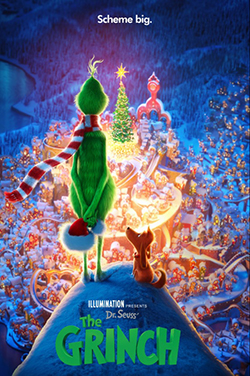 Each year at Christmas they disrupt his tranquil solitude with their increasingly bigger, brighter and louder celebrations. When the Whos declare they are going to make Christmas three times bigger this year, the Grinch realizes there is only one way for him to gain some peace and quiet: he must steal Christmas. To do so, he decides he will pose as Santa Claus on Christmas Eve, even going so far as to trap a lackadaisical misfit reindeer to pull his sleigh. Meanwhile, down in Who-ville, Cindy-Lou Who—a young girl overflowing with holiday cheer—plots with her gang of friends to trap Santa Claus as he makes his Christmas Eve rounds so that she can thank him for help for her overworked single mother. As Christmas approaches, however, her good-natured scheme threatens to collide with the Grinch's more nefarious one. Will Cindy-Lou achieve her goal of finally meeting Santa Claus? Will the Grinch succeed in silencing the Whos' holiday cheer once and for all?
—–
Holidays are a time for returning home and reconnecting with family in the shared joy of familiar rituals. Whether you've inherited traditions from the family you were born with or you're creating new traditions with the family you're building, the celebration is bound to include a classic holiday movie. This season, more than any other, delivers beautiful movies about the power of kindness, the meaning of family, and the importance of pausing to experience joy and gratitude.
To celebrate this most wonderful time of the year, we're bringing back five classic movies—for just $5 a ticket—about people transformed by the holiday spirit. Gather together with your loved ones to see your annual holiday favorite on the big screen at Regal, the best place to watch Grinch hearts grow.