Film: 20,000 Leagues Under the Sea w/ Live Musical Accompaniment
March 30 @ 7:00 pm

-

9:00 pm
WHEN: Thursday, March 30th at 7:00 pm
WHERE: Proctors Theater, 432 State Street, Schenectady, NY 12305
COST: Tickets purchased in advance at @12.00. Otherwise, tickets are $15.00. Purchase tickets HERE
BUS: #905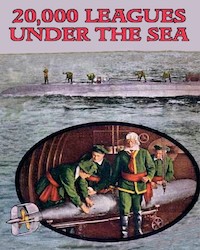 20,000 LEAGUES UNDER THE SEA w/ Live Musical accompaniment by Order of the Illusive!
The film:
During the Civil War, reports of a sea monster attacking ships alarm the Navy. An investigation finds the monster is a submarine, the "Nautilus," commanded by vengeance-seeking Capt. Nemo (Allen Holubar), who was once an Indian prince. Years earlier, adventurer Charles Denver (William Welsh) caused the suicide of Nemo's wife and the disappearance of his daughter. Nemo tracks Denver to a distant island where, unknown to him, a wild native girl matching his daughter's description is also hiding.
ALERT: Holubar and other of the "Indian" actors in this film appear in "Brown Face." The producers wish to stress to viewers a recognition that racism in popular media has long harmed–and continues to harm–people of color. They indicate that "It is not our goal to whitewash history but to learn from it. We hope that bearing witness to the history of racist imagery in popular media contributes to today's freedom struggles."
Silent ‧ 1916 ‧ Rated G ‧ Sci-fi/Adventure ‧ 1h 45m
Order of the Illusive:
Bradford Reed (pencilina and drums) is a Brooklyn, NY-based composer, multi-instrumentalist and producer. The pencilina is an original instrument of his own design and construction, which he's performed with worldwide over the last three decades. Reed has played with King Missile III (and produced 4 of their records) and was a member of the Blue Man Group's original band. He has also composed music for film and television including the first season of Superjail! on Adult Swim and 3 seasons of Ugly Americans on Comedy Central.
Geoff Gersh (guitar) is a musician, composer and improviser based in the NYC area. Gersh explores the sonic boundaries of the electric guitar with and without the aid of found objects and electronic devices. Moving between the worlds of ambient, drone, improvisation and experimental, Gersh has performed and collaborated with Pauline Oliveros, Jonathan Bepler and a great many other musicians, choreographers and visual artists both domestically and abroad.
Zach Layton (17 string bass) is a guitarist, composer, curator, teacher and visual artist based in New York. He has an extensive background in orchestral composition and experimental music, has performed with Bobby Previte, and is currently a professor of music at Ramapo College of New Jersey.
Fun facts:
The first motion picture to be filmed underwater, 20,000 Leagues Under the Sea is largely based on the 1870 novel by Jules Verne, yet it also incorporates elements from Verne's 1875 novel, The Mysterious Island.
The underwater scenes were photographed in the Bahamas using a system of watertight tubes and mirrors that allowed the camera to shoot reflected images of underwater scenes cleverly staged in shallow sunlit waters. Film historian Hal Erickson indicates that the $500,000 cost of the film was so astronomical for the time "that it could not possibly post a profit, putting the kibosh on any subsequent Verne adaptations for the next 12 years."