All Hallow E'en Art Path
WHEN: October 1, 2023 – October 31, 2023
WHERE: Various locations between Albany Center Gallery (488 Broadway, Suite #107, Albany, NY 12207) and the Discover Albany Visitors Center
COST: FREE
BUS: #114, 12, 10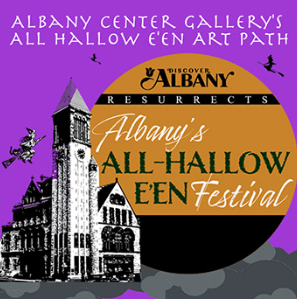 Together with local artists and small business owners, Albany Center Gallery (ACG) curated dynamic FALL-bany inspired window displays. ACG invites you to explore Downtown Albany along the All Hallow E'en Art Path to see enchanting public art and support your local neighboring businesses. This is a public art project, available for viewing 24/7 for the month of October 2023. Photos and friends encouraged!
Over 10 local artist's artworks are featured on display in the storefronts of several local businesses. The path takes you to/from Albany Center Gallery, up Maiden Ln with Maiden House and Cobblestone Lunch Shoppe, to N Pearl St with Modern Body Art and Banh Mi 47, all the way to Nocturnal Cookies, down Clinton Ave, to Discover Albany.
Albany Center Gallery's All Hallow E'en Art Path is a creative project that nods to the Festival's history of local businesses participating in the festivities as well as highlights local talent in the region. Participating artists include Alicia Barton, Raina Briggs, Nevaeh Hairston, Cara Hanley, Lexi Hannah, Quill Harrison, Stephanie Levay, Aurora Powell, Casey Simonds, and Carl Warren. We look forward to welcoming everyone to Downtown Albany to explore the art path. There are physical maps along the way or pick up at Albany Center Gallery/Discover Albany. You can pull up a digital Google Maps with pins here.  Happy exploring!
Photos and friends encouraged! Please tag @albanycentergallery @albanyhalloween and @discoveralbany and the artists when you post.